Parish History
Devotion and Development in Mooncoin
Highlighting the continuous devotion to, and development of, the Catholic Church in Mooncoin Parish through the centuries, the present Catholic Parish of Mooncoin compromises the modern Churches of Mooncoin, Carrigeen and kilnaspic it replaced the former parishes of Aglish, Ardera, Ballytarsna, Clonmore, Polrone, Portnascully, Rathkieran and Tubrid. The remains of many of these former churches are still visible in our parish today.
In addition we would in particular like to highlight one unique aspect of faith in Ossory linked to the former Church at Rathkieran in Moooncoin Parish. Bishop Donail O'Fogartach, Bishop of Ossory died and was buried at Rathkieran graveyard in the year 1178. It is stated that in 1175 following the furning of the Episcopal City of Kilkenny that Bishop Fogarty moved to Rathkieran and during the turbulence of the Anglo Norman invasion he used Rathkieran as his Catherdral. Rathkieran and the neighboring townlands were ancient see lands of the Bishop of Ossory i.e. the ancient seat of the Bishop of Ossory. However, perhaps the most significant point of interest about Rathkieran and indeed about Ossory is that according to Historians including the History of Saint Ciaran of Ossory and according to tradition, Rathkieran Church was the scene of the very first meeting between St Patrick and St Ciaran in Ireland when St Patrick was on his mission here. The Church at Rathkieran is located beside the main road and is a accessible to visitors.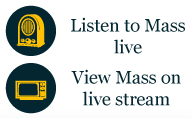 Mass Times
Mooncoin Church
Monday to Wednesday: 9:30am - Mooncoin
Friday: 9.30am - Mooncoin
Saturday:
6.30pm (followed by confessions)
Sunday: 11.15am


Carrigeen Church


Kilnaspic Church
Saturday: 7.30pm - from Saturday 7th January 2017
©2019 Mooncoin Parish Office, Polerone, Mooncoin, Co. Kilkenny. Tel. (051) 895123 Email: mooncoin@ossory.ie [ Disclaimer ] [ Accessibility ]
Developed and sponsored by Fergal O'Hanlon Website Design. Photos kindly provided by Joe Cashin Photography.