Ministers of the Word


Reading Co-ordinators


Mooncoin - Richard Wilson,


Carrigeen - Yvonne Pheasey,


Kilnaspic - Katherine Hogan.
If you are unable to attend on specific date & time, please arrange a swop or contact your Reading Co-ordinator on 051 895123.
Thank you in advance for your continued ministry in our parish.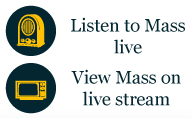 Mass Times
Mooncoin Church
Monday to Wednesday: 9:30am - Mooncoin
Friday: 9.30am - Mooncoin
Saturday:
6.30pm (followed by confessions)
Sunday: 11.15am


Carrigeen Church


Kilnaspic Church
Saturday: 7.30pm - from Saturday 7th January 2017
©2019 Mooncoin Parish Office, Polerone, Mooncoin, Co. Kilkenny. Tel. (051) 895123 Email: mooncoin@ossory.ie [ Disclaimer ] [ Accessibility ]
Developed and sponsored by Fergal O'Hanlon Website Design. Photos kindly provided by Joe Cashin Photography.