Older Churches
Highlighting the continuous devotion to, and development of, the Catholic Church in Mooncoin Parish through the centuries, the present Catholic Parish of Mooncoin compromises the modern Churches of Mooncoin, Carrigeen and Kilnaspic it replaced the former parishes of Aglish, Ardera, Ballytarsna, Clonmore, Polrone, Portnascully, Rathkieran and Tubrid. The remains of many of these former churches are still visible in our parish today.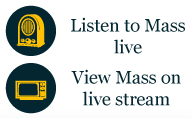 Mass Times
Mooncoin Church
Monday to Wednesday: 9:30am - Mooncoin
Friday: 9.30am - Mooncoin
Saturday:
6.30pm (followed by confessions)
Sunday: 11.15am


Carrigeen Church


Kilnaspic Church
Saturday: 7.30pm - from Saturday 7th January 2017
©2019 Mooncoin Parish Office, Polerone, Mooncoin, Co. Kilkenny. Tel. (051) 895123 Email: mooncoin@ossory.ie [ Disclaimer ] [ Accessibility ]
Developed and sponsored by Fergal O'Hanlon Website Design. Photos kindly provided by Joe Cashin Photography.