Kilnaspic Church
There have been three chapels within the present chapel yard, viz.: (1) the old thatched chapel, built probably in the second half of the eighteenth century; (2) the late chapel, built by Fr. Fitzpatrick, PP., during the first years of the 19th century; and the present chapel built by Canon Edward Walsh, PP., in 1866.
Taken from History of the Parish of Mooncoin
by The Late Very Rev. Walter McDonald, D.D., Maynooth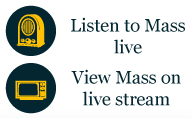 Mass Times
Mooncoin Church
Monday to Wednesday: 9:30am - Mooncoin
Friday: 9.30am - Mooncoin
Saturday:
6.30pm (followed by confessions)
Sunday: 11.15am


Carrigeen Church


Kilnaspic Church
Saturday: 7.30pm - from Saturday 7th January 2017
©2019 Mooncoin Parish Office, Polerone, Mooncoin, Co. Kilkenny. Tel. (051) 895123 Email: mooncoin@ossory.ie [ Disclaimer ] [ Accessibility ]
Developed and sponsored by Fergal O'Hanlon Website Design. Photos kindly provided by Joe Cashin Photography.