Mooncoin Church
The first chapel built in this district, since the Reformation, stood in Ballytarsna, in a three-cornered field called the Coracleen. It was a thatched chapel. It was at one time burned down, but was again repaired by the people. Having been in use for about a century, Corracleen chapel was abandoned in 1802. The late chapel of Mooncoin was then erected in its place by the Rev. John Fitzpatrick, PP.; and this, in turn gave place to the present parish church of Mooncoin, built by the Very Rev. Canon Walsh, PP., in 1869.
Taken from History of the Parish of Mooncoin
by The Late Very Rev. Walter McDonald, D.D., Maynooth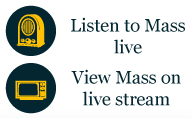 Mass Times
Mooncoin Church
Monday to Wednesday: 9:30am - Mooncoin
Friday: 9.30am - Mooncoin
Saturday:
6.30pm (followed by confessions)
Sunday: 11.15am


Carrigeen Church


Kilnaspic Church
Saturday: 7.30pm - from Saturday 7th January 2017
©2019 Mooncoin Parish Office, Polerone, Mooncoin, Co. Kilkenny. Tel. (051) 895123 Email: mooncoin@ossory.ie [ Disclaimer ] [ Accessibility ]
Developed and sponsored by Fergal O'Hanlon Website Design. Photos kindly provided by Joe Cashin Photography.