Mooncoin Parish Pastoral Council Mission Statement
Mooncoin Parish Council will strive to reach out to all in its community, listen to their needs and foster a sense of belonging and inclusiveness. To enable the people of God to support one another in faith and walk together in their daily living with Jesus Our Lord.
Purpose Role of Pastoral Council
To strive to build a Parish Community focused and
characterized
by faith, prayer, hospitality/welcome, Mission and evangelisation.
The Council consists of 10 - 12 members.
For further information or any queries, please contact Parish Pastoral Secretary: Maire Foskin, Tel 051 895123
Mooncoin Parish Finance Committee
To further this mission and plan the local Church relies on the advice and support of people expert in a variety of different areas - One such area is the Finance Committee.
Church Law (Canon 537) requires each parish to have a Finance Committee and it serves on a par with the Parish Pastoral Council (Canon 532) in the overall advisory leadership of the Parish, working in harmony with the Paarish Priest and the other Parish Committees.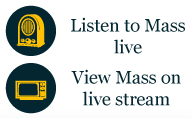 Mass Times
Mooncoin Church
Monday to Wednesday: 9:30am - Mooncoin
Friday: 9.30am - Mooncoin
Saturday:
6.30pm (followed by confessions)
Sunday: 11.15am


Carrigeen Church


Kilnaspic Church
Saturday: 7.30pm - from Saturday 7th January 2017
©2019 Mooncoin Parish Office, Polerone, Mooncoin, Co. Kilkenny. Tel. (051) 895123 Email: mooncoin@ossory.ie [ Disclaimer ] [ Accessibility ]
Developed and sponsored by Fergal O'Hanlon Website Design. Photos kindly provided by Joe Cashin Photography.