Mass Times
WEEKDAY MASS TIMES
Mon – Wednesday: 9.30am in Mooncoin
Friday: 9.30am in Mooncoin
Thurs 10am – 8pm: Exposition of the Blessed Sacrament - Nagle Chapel
First Friday: Visitation of the Sick will take place on Wednesday between 2 – 5 p.m. and Friday from 10.15 - 1 p.m. Should anyone who is recently sick or house bound like a visit or to receive Holy Communion, you are welcome to contact Fr. O'Keeffe. Hospital Visits: Contact the Parish Office and let me know if you or your loved ones or neighbors are ill at home / hospital and would like a visit (taking into account any restrictions on visits that may occur from time to time).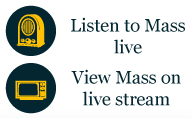 Mass Times
Mooncoin Church
Monday to Wednesday: 9:30am - Mooncoin
Friday: 9.30am - Mooncoin
Saturday:
6.30pm (followed by confessions)
Sunday: 11.15am


Carrigeen Church


Kilnaspic Church
Saturday: 7.30pm - from Saturday 7th January 2017
©2019 Mooncoin Parish Office, Polerone, Mooncoin, Co. Kilkenny. Tel. (051) 895123 Email: mooncoin@ossory.ie [ Disclaimer ] [ Accessibility ]
Developed and sponsored by Fergal O'Hanlon Website Design. Photos kindly provided by Joe Cashin Photography.