Inspirational
Inspirational Quotes:
Psalms 19:14
'May these words of my mouth and this meditation of my heart be pleasing in your sight. Lord, my Rock and my Redeemer.'
A quote for each day can be found on the website: http:/mooncoinparish.ie
Romans 8:37-39
'In all these things we are more than conquerors through him who loved us. For I am convinced that neither death nor life, neither angels nor demons, neither the present nor the future, nor any powers, neither height nor depth, nor anything else in all creation, will be able to separate us from the love of God that is in Christ Jesus our Lord .'
Psalms 86:11
'Teach me your way, Lord, that I may rely on your faithfulness; give me an undivided heart, that I may fear your name.'
Zephaniah 3:17
'The Lord your God is in your midst, a mighty one who will save; he will rejoice over you with gladness; he will quiet you by his love; he will exult over you with loud singing.'
Romans 8:31
'What then shall we say to these things? If God is for us, who can be against us?'
Luke 11:1-4
'He said to them, When you pray, say: Father, hallowed be your name, your kingdom come. Give us each day our daily bread. Forgive us our sins, for we also forgive everyone who sins against us. And lead us not into temptation.'
Matthew 6:25-27
'Therefore I tell you, do not worry about your life, what you will eat or drink; or about your body, what you will wear. Is not life more important than food, and the body more important than clothes? Look at the birds of the air; they do not sow or reap or store away in barns, and yet your heavenly Father feeds them, Are you not much more valuable than they? Who of you by worrying can add a single hour to his life?'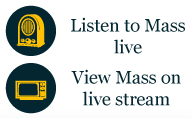 Mass Times
Mooncoin Church
Monday to Wednesday: 9:30am - Mooncoin
Friday: 9.30am - Mooncoin
Saturday:
6.30pm (followed by confessions)
Sunday: 11.15am


Carrigeen Church


Kilnaspic Church
Saturday: 7.30pm - from Saturday 7th January 2017
©2019 Mooncoin Parish Office, Polerone, Mooncoin, Co. Kilkenny. Tel. (051) 895123 Email: mooncoin@ossory.ie [ Disclaimer ] [ Accessibility ]
Developed and sponsored by Fergal O'Hanlon Website Design. Photos kindly provided by Joe Cashin Photography.