First Friday
Visitation of The Sick
First Friday: Visitation of the Sick will take place on Wednesday between 2pm–5pm and Friday from 10.15am-1pm.
Please contact the Parish Office if you won't be at home at these times, Should anyone who is recently sick or house bound and would like a visit or to receive Holy Communion, you are welcome to contact Fr. O'Keeffe.
Hospital Visits
Please contact the Parish Office and let Fr. Larry know if you or your loved ones or neighbors are ill at home or hospital and would like a visit (taking into account any restrictions on visits that may occur from time to time). Thank You.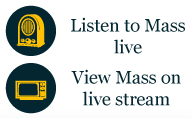 Mass Times
Mooncoin Church
Monday to Wednesday: 9:30am - Mooncoin
Friday: 9.30am - Mooncoin
Saturday:
6.30pm (followed by confessions)
Sunday: 11.15am


Carrigeen Church


Kilnaspic Church
Saturday: 7.30pm - from Saturday 7th January 2017
©2019 Mooncoin Parish Office, Polerone, Mooncoin, Co. Kilkenny. Tel. (051) 895123 Email: mooncoin@ossory.ie [ Disclaimer ] [ Accessibility ]
Developed and sponsored by Fergal O'Hanlon Website Design. Photos kindly provided by Joe Cashin Photography.