Vision Mooncoin & Church Ground Carparks
The Parish Hall car parking facilities are reserved on Monday and Wednesday evenings from 7pm on-wards for Bingo and Bridge. If any group or event is taking place else where in the village and this car park is required for extra parking please contact the office in advance and we will facilitate as best we can. Thank you.
Be vigilant when parking!!
We advise all to take due care when parking your car, Please ensure no valuables are visible and doors are locked as we are not responsible for the safety of your car whilst parked either on church grounds or parish hall grounds. Thank you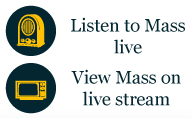 Mass Times
Mooncoin Church
Monday to Wednesday: 9:30am - Mooncoin
Friday: 9.30am - Mooncoin
Saturday:
6.30pm (followed by confessions)
Sunday: 11.15am


Carrigeen Church


Kilnaspic Church
Saturday: 7.30pm - from Saturday 7th January 2017
©2019 Mooncoin Parish Office, Polerone, Mooncoin, Co. Kilkenny. Tel. (051) 895123 Email: mooncoin@ossory.ie [ Disclaimer ] [ Accessibility ]
Developed and sponsored by Fergal O'Hanlon Website Design. Photos kindly provided by Joe Cashin Photography.