Prayer
Soon it will be that time when we are reminded of the importance of uniting our prayers with the Mother of God and conforming ourselves to Christ as revealed in the mysteries of His life. We grow in our appreciation of Christ through meditating on these mysteries. We do, however, need to be careful that our prayer does not become wordy and mechanical. Pope Paul VI said "Without contemplation, the Rosary is a body without a soul." therosary3.com is a scriptural Rosary. Whether you are already in the habit of praying the Rosary and want to renew the spirit of your prayer, or whether you are new to the Rosary and want to learn how to quieten your mind and heart, therosary3.com will help you enter more deeply into the Mysteries of Christ. Come then, come to a quiet place within … visit therosary3.com.
To Jesus, through Mary ...
click here..
www.therosary3.com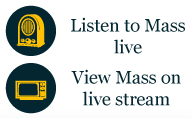 Mass Times
Mooncoin Church
Monday to Wednesday: 9:30am - Mooncoin
Friday: 9.30am - Mooncoin
Saturday:
6.30pm (followed by confessions)
Sunday: 11.15am


Carrigeen Church


Kilnaspic Church
Saturday: 7.30pm - from Saturday 7th January 2017
©2019 Mooncoin Parish Office, Polerone, Mooncoin, Co. Kilkenny. Tel. (051) 895123 Email: mooncoin@ossory.ie [ Disclaimer ] [ Accessibility ]
Developed and sponsored by Fergal O'Hanlon Website Design. Photos kindly provided by Joe Cashin Photography.