Welcome to Mooncoin Parish
The Parish is comprised of Mooncoin, Carrigeen & Kilnaspic.
Mooncoin has its origin from the Irish meaning "Quin's Meadow or Bog".
Carrigeen comes from "Little Rock".
Kilnaspic Coill or Cill meaning "The Bishop's Cell or Wood".
Mooncoin Parish has three Primary Schools and Coláiste Cois Siúire which has the distinction of being one of the earliest Vocational Schools established by the VEC.
Our Parish is part of the Dioceses of Ossory. Mooncoin Parish strives to reach out to all in our community, listen to their needs and foster a sense of belonging and inclusiveness. The website will give information about the history of the Parish as well as the services and activities provided.
You are very welcome to contact us at anytime.
Mooncoin Latest News
First Friday
Visitation of the Sick
Parish Office Opening Hours
Opening Hours are:
Cemetery Mass Times
2018
Vision Mooncoin & Church Ground Carparks
Please note.....
Mass Times
Mon - Wed: 9.30am Mooncoin Fri: 9.30am Mooncoin
Inspirational
Quotes;
Prayer
Rosary
Mooncoin Parish Newsletter - The Grapevine
Currently we are having problems uploading the weekly Grapevine to our Parish Website.
This should hopefully be resolved in the coming weeks.
Apologies for any inconvenience this may have caused.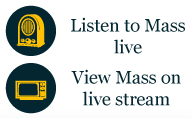 Mass Times
Mooncoin Church
Monday to Wednesday: 9:30am - Mooncoin
Friday: 9.30am - Mooncoin
Saturday:
6.30pm (followed by confessions)
Sunday: 11.15am


Carrigeen Church


Kilnaspic Church
Saturday: 7.30pm - from Saturday 7th January 2017
©2019 Mooncoin Parish Office, Polerone, Mooncoin, Co. Kilkenny. Tel. (051) 895123 Email: mooncoin@ossory.ie [ Disclaimer ] [ Accessibility ]
Developed and sponsored by Fergal O'Hanlon Website Design. Photos kindly provided by Joe Cashin Photography.